Vector Art created using Adobe Illustrator is preferred. It provides the best quality and allows images to be resized without loss of sharpness and detail. If vector files cannot be supplied and redrawing is required on any or all of the components, another day needs to be added to the production time.

The quality of your imprint depends upon the quality of artwork supplied to us! All orders requiring artwork must be sent in as Black and White CAMERA READY vector art. Artwork can be submitted via E-Mail, on CD or FTP (File Transfer Protocol). Laser copies of 1200 DPI resolution are also acceptable. Whether you are Mac or PC based, we are able to accept your graphic files if you meet the requirements listed. To ensure this and avoid delays or art charges please adhere to our specifications.

IMPRINT: Artwork can be accepted from the following programs:

Adobe Illustrator - CC or lower. We prefer .AI or .EPS vector artwork.
Photoshop - All EPS, TIFF, JPEG files (layered if possible) - They must be 600 dpi or higher at 100% of final imprint size or larger.

If scanned images are used with artwork, they MUST be sent as a separate file scanned at 600 dpi or higher. (If not actual size, scan at a higher resolution. This will prevent loss of quality.)

EMBROIDERY: Wilcom files preferred. DST files accepted. For digitized files, save as Tajima format with color sequencing.

ALL FONTS MUST BE CONVERTED TO OUTLINES, CURVES OR PATHS (VECTOR). IF SUPPLYING IMAGE FILES, FONTS NEED TO BE RASTERIZED.

COMPRESSION: Please use Stuffit or Zip.

WE DO NOT ACCEPT: Gif files, Page layout files such as Quark or Pagemaker, Word processing documents such as MS Word/Power Point, Photocopies or PMT's of photocopies, business cards, letterheads, fax transmissions, etc. (These formats are too low of a quality to ensure you a quality imprint.)

E-mail your artwork to our Sales Dept

When sending your artwork via e-mail please include the following information:

In the Subject Area: Company Name
In the Message Area: Company Name, Your Name, Phone Number, our Item # to be Imprinted, PMS color(s) to be used for the imprint. We suggest using our standard imprint colors to save the PMS color match charge. Name of program used to create the artwork.

Please Note: Artwork with tight registration, halftones, screen tints and/or bleeds must be reviewed by our Art Department for approval. Avoid very fine lines, both in type and illustrations. PMS Color Match cannot be guaranteed on dark colored shirts.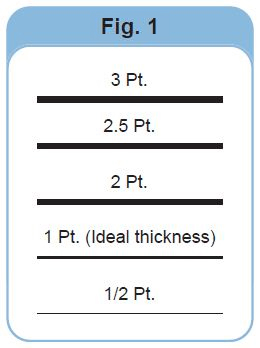 Fonts:
All fonts used in the design must be converted to curves or outlines. (This is to prevent any font related issues.)

Minimum Text / Line Thickness:
• See Fig. 1
• The ideal line thickness is 1 pt. All printable areas within the artwork should be a minimum of 1pt thick (.0139")
• Areas less than 1 pt. will not print.

Colors:
• All colors must be a spot color and designated as such using PMS color numbers. Usually the Production Department rejects logos that have more than 4 colors. However, we are certainly willing to review your artwork and provide an opinion.

Soft Edge / Transparency / Overprint:
• Design needs to be a solid shape without soft edges, transparencies or overprints.